Dear Kudimba friends,
As our communal house in Lifuwu is quickly filling up with volunteers and friends, here is our summer newsletter finally.
This time we have the privilege of hosting four Belgian visitors who are keen to start their project at Kudimba and to share their story.
You might know that we experience nearly daily power cuts here in Malawi, sometimes lasting all day long. These power cuts are very disruptive for work and daily life.
The Humasol team and their solar power project will assist us to overcome these problems of power outages, which will mean a huge improvement for Kudimba.
We will let the team introduce themselves to you and explain more about their project. 
"Hello, 
We are Axelle, Lina, Jarne and Pieterjan, four engineering students from Belgium. We are part of Humasol, a student organisation whose goal is to provide sustainable energy in developing countries. We have spent the past two years preparing a plan to provide Kudimba with solar power. The installation will make Kudimba self-sufficient and independent from the unreliable electricity grid. A few days ago, we finally set off to Malawi to implement the project.
After a very long and tough trip, we were able to discover Lifuwu, the fishing village by the shores of Lake Malawi, where Kudimba is based. First, we were given a short tour around Kudimba and were introduced to the staff members. They all welcomed us with open arms and were very interested and enthusiastic about the project. In the education building we were immediately embraced by the children of Kudimba. After a few hours we all got to know our own names in sign language. Axelle got a reference to her chin, Jarne to his fear of snakes, Pieterjan to his big hair and yes Lina … we still do not know the meaning of her sign. To Lina's family, is there anything special about your forearms? Just asking, as for some unclear reason this is now Lina's sign.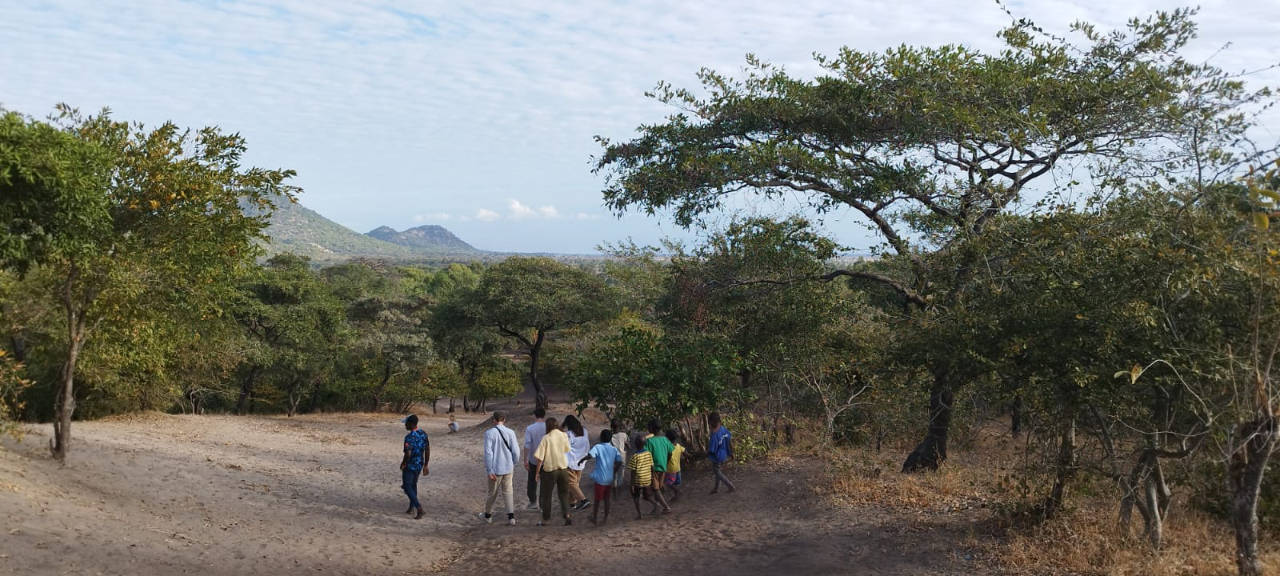 A walk in the Lifuwu forest, the Humasol team is closely followed by friendly kids from the village.

When we walked through the village, we got our first impression of real life in Malawi, which left a deep impact. Here we see the real significance of Kudimba: the children have a much safer and healthier environment in which they can develop and learn skills which will prove valuable in their future lives. Later, we were joined by the children of the village on our walk, who quickly mastered the art of taking selfies. After a while we heard loud cheering, which led us to a local soccer match. The level of the match was very high, especially since it was played barefoot and on sand.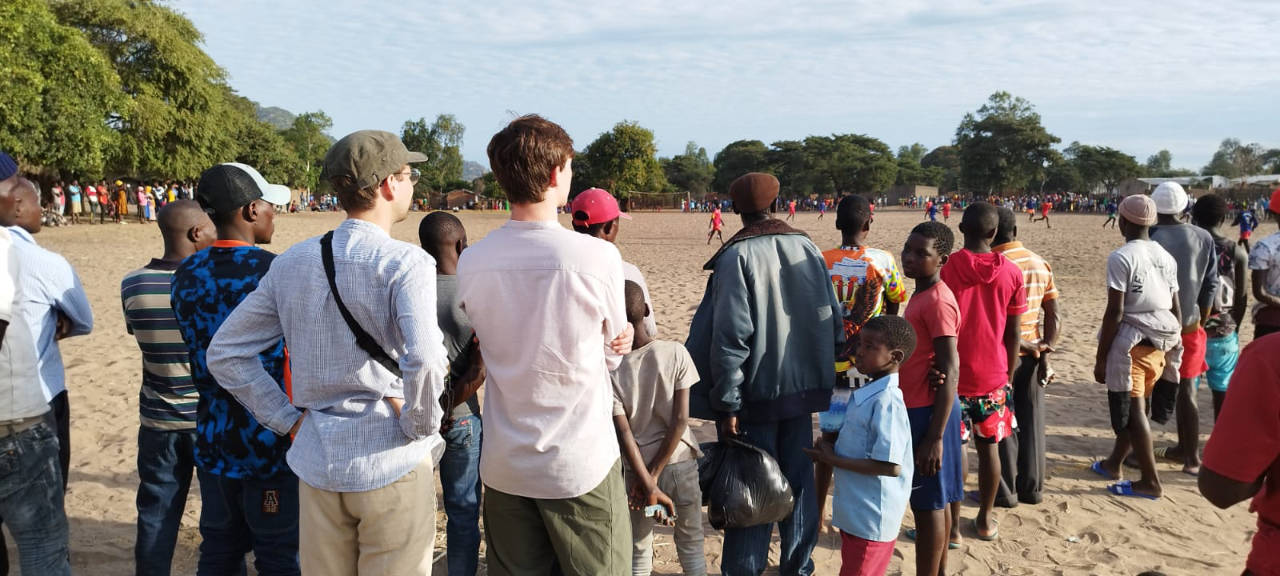 Jarne & Pieterjan enjoy watching a local football match

To make the solar installation sustainable in all aspects we want to involve the staff and the older participants of Kudimba in the project. We do this by educating them in the basics of electricity, the working principle of the installation and how to maintain it in the coming years. To make this all a little more fun we designed some toy airplanes with a propeller driven by solar panels. When showing the prototype the staff and the participants reacted enthusiastically and we are confident that they are excited to become part of the project.
In the coming weeks we will be starting the actual installation of the project and keep you posted on our progress."
Moni !
Axelle, Lina, Jarne and Pieterjan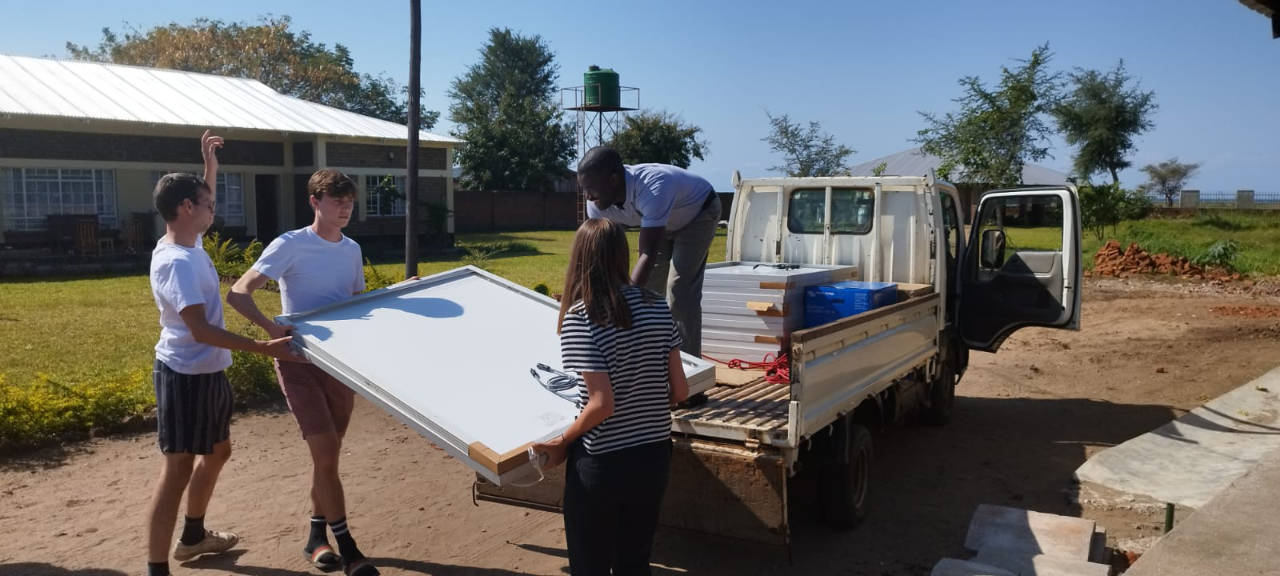 The delivery of the solar panels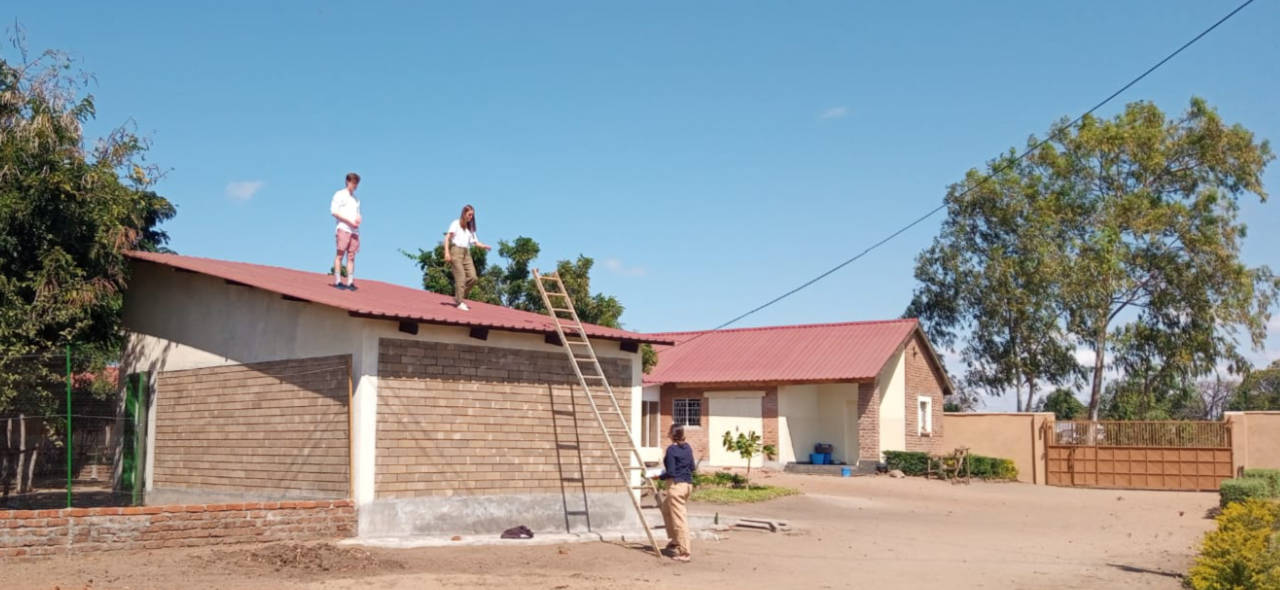 Checking if the roof  will  support the solar panels

The Kudimba team is very excited about and grateful for this collaboration with Humasol. We are looking forward to life without power cuts and all the other advantages that this system will bring.
We also have some other Kudimba news to share with you.
You might remember that earlier this year Kudimba won the second prize in a photo competition of the city council of Wevelgem with a picture of Masa. The prize money went towards the running costs of our project. We had also promised to get a present for him. Finally we surprised Masa and his mum with a gift and they were over the moon with their new solar powered light with a separate phone charger. This is a life changing improvement to their modest home, which is not connected to mains electricity. Also the neighbours were impressed.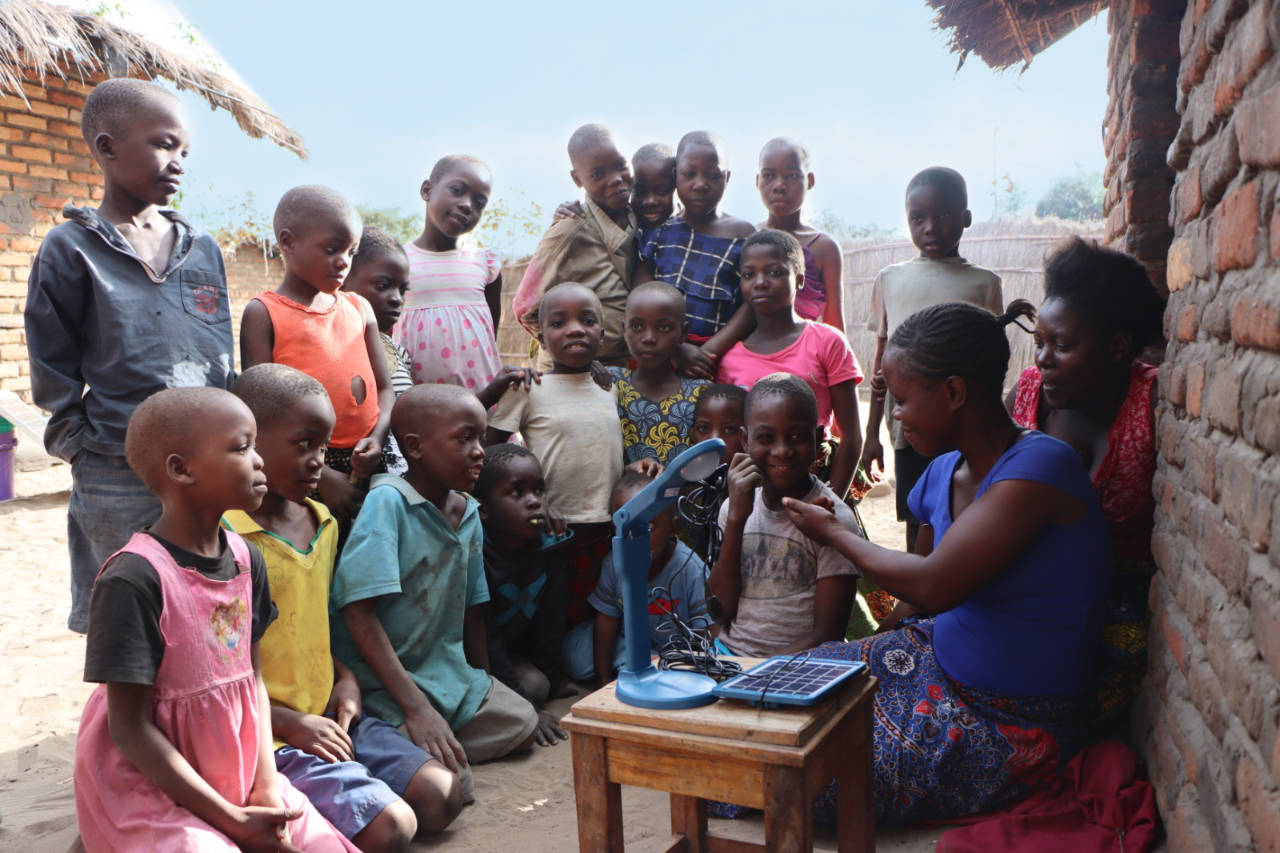 Masa, his mother and the neighbours discover the solar lamp and charger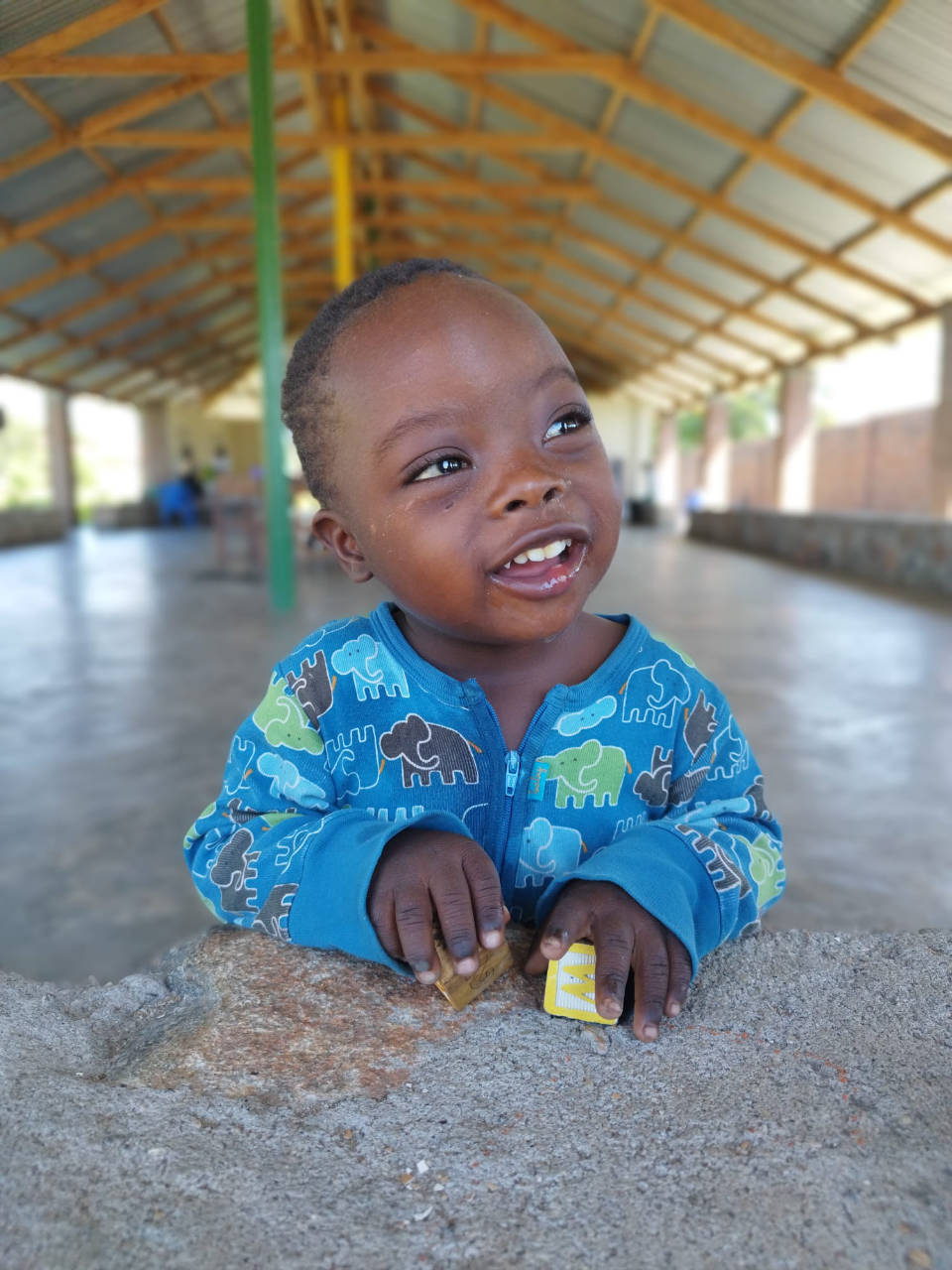 We are proud to introduce our newest Kudimba participant.
Faruku was born on Christmas Day 2019, a special birthday for a special boy. He has been an outreach visitor of Kudimba's physiotherapy services for some time. Now he has become a full time participant of our education centre so he can benefit from all the activities and care that are offered. He is Kudimba's 45th participant.
Faruku is settling in well, feels completely at home at Kudimba and never stops smiling … and we are completely smitten with him.
We expect an exciting update for you after the summer.
Warmest Kudimba regards