Dear Kudimba friends,
There is a lot of news to report in this spring update. Things have been busy in Kudimba and times have been tough in Malawi, but all is well with us.  Here's an extra-long newsletter.
Malawi is currently suffering greatly from an extreme confluence of adversities. An ongoing cholera epidemic combined with the violent passage of a tropical cyclone is making an already difficult life virtually impossible for many.
You may have heard about the devastating effects of Cyclone Freddy in southern Africa – it was the longest-lasting cyclone ever recorded.  Malawi was hit particularly hard, many people in southern Malawi lost their lives and many more lost their homes and livelihoods.
Immense mudslides partially buried villages. Many people are still missing and may never be found as they are buried under the mud.
The tropical storm also caused heavy rainfall and extremely strong winds in Lifuwu, where Kudimba is based. Many of you have sent messages asking about our well-being, know that we appreciate your concern.
Everyone in Kudimba is safe, there is no structural damage to our project, but the project narrowly avoided flooding. It is still raining very heavily and the ground is oversaturated, the level of groundwater is high.
As a result of the large amount of rain, we now have many frogs in our garden, which in turn attract many interesting birds, looking for a tasty snack.  Besides the frogs and the birds, everyone else is eagerly looking forward to the end of the rainy season soon. We hope to reach it unscathed.
As we are currently in the process of preparing the foundations for our new kitchen block, it was an interesting exercise to see what happens under these circumstances. In a way, the timing was perfect and we should be grateful for this experience because we now understand that we need to work with a canalisation system to capture excess water in extreme weather conditions.
Of course, this canalisation system was not included in our original construction budget, so that means we will need to stretch our finances a little further, but hopefully this will save us a lot of trouble and money later.
We in Lifuwu were lucky that there were no casualties and in Kudimba we were lucky that there was no structural damage. However, the road to Lifuwu's Health Centre, which was already badly damaged before the storm, has now become completely inaccessible. A deep gorge completely prevents vehicle access to the Health Centre. This is especially a problem for people who need to be transferred to the more specialised District Hospital in case of emergencies: for example, for seriously injured patients or in case of an obstructed labour at the maternity unit. Medical staff and suppliers must also have access to the health centre.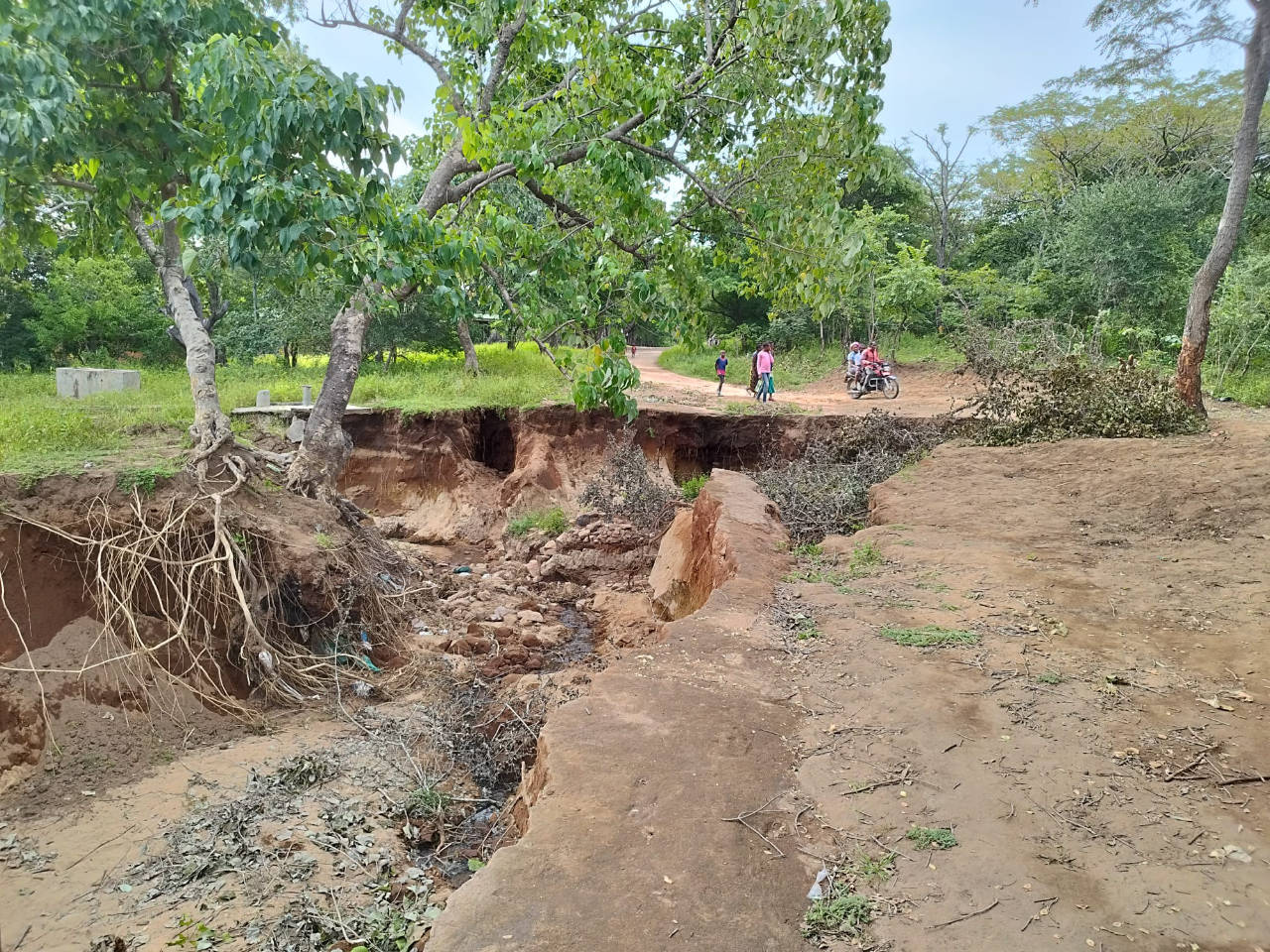 The damaged road to Lifuwu's Health Centre – Click to enlarge picture.

In Kudimba, we received a delegation of representatives from the community of Lifuwu to ask for help to repair this road and to create a sustainable solution for the water so that it does not damage the road again in the future. We are currently exploring options to address this critical problem. Access to healthcare is such an essential need, and the problem affects many people, so we are motivated to help seek a solution. All the more so because the health centre staff have greatly supported the Kudimba project and since their involvement, the health of Kudimba's children has improved tremendously.
Most of Malawi has had problems with electricity since the storms, more so than before. We are still very relieved and happy to have our high-quality solar system, which allows us to continue our lives and work without interruptions.
There is also a lot of other and brighter news at Kudimba…
We have a new submersible solar pump for our borehole, it is connected directly to a solar panel. We used to work with several surface pumps, but as soon as some clouds appeared, they all stopped working. Since we have had so many rain clouds lately, our new system is a very welcome improvement. Our water tanks have never been empty since we got this pump.
The floor of the education centre has been renovated. Previously, we had a floor that was not well built and had many cracks and tears. We hope this new floor will last for a very long time.
Our new wall on the southeast side is ready, the builders will finish the top layer with a coping stone and then coat the wall with a layer of brick sealer to protect it.  The wall has given Kudimba a very different appearance, but it looks good and is an improvement for the security of the project.
In Kudimba, a lot of time and budget goes into repairs and maintenance. Recently, most of our safety lights broke down at the same time, for some unclear reason. We tried to repair them but it was not possible.  We will invest in new ones and hope they will last.
Last week we had a permaculture week in Kudimba. It was an interesting week with our good friend Aleck who came all the way from Livingstonia mountain in northern Malawi to Lifuwu to train our team. Since Aleck is from the north, his mother tongue is Tumbuka, which is another tribal language in Malawi. For Aleck, teaching people with special needs was a novelty. He taught in English, while Anthony translated everything in Chichewa and in sign language simultaneously, hats off to both of them, they worked together as a good team.  As a final part of our permaculture week, we expertly planted some beautiful trees in honour of some very special people.
Since a few weeks, Farida has been part of our project. We were very pleased to welcome her as Kudimba's fiftieth registered participant.
She is seven years old. Farida was born without any problems, but suffered convulsions at the age of four after a severe cerebral malaria infection.
At the age of six, she suffered malaria again. Farida is cheerful, social and independent but needs some support with her fine motor skills and general development.
Shortly after that we welcomed another addition to the Kudimba family: Aïsha is the newborn baby girl of Mwandida, one of our young participants with special needs. Mwandida is 19 years old and has a hearing disability and does not speak.
She has not been to school and does not read or write. We are happy to welcome Mwandida back to Kudimba.
We will support her and her baby so they can both grow and prosper.
Very soon after, our number of participants dropped from 51 to 50 again, this time for a very happy reason. One of our long-term participants, Johny, is now employed by Kudimba. Together with our other new employee Robert, Johny forms a team. Both Robert and Johny can not hear and can not speak but both are highly competent in many other areas. They provide transport by bicycle in the mornings for children who would otherwise not have access to Kudimba's services. They are also responsible for the garden and technical maintenance of Kudimba, with the intention of doing all this in an educational manner with some of Kudimba's older participants under their wings. Johny has the added responsibility of keeping the education centre and storeroom tidy at the end of each day. After two weeks of their employment, we see an improvement in Kudimba and their huge motivation is touching. We are delighted to have Johny and Robert in our team. 
Our team now includes 14 full-time and 4 outreach workers. Among the staff, 4 participants have a physical disability. Nine women and nine men are employed in Kudimba. We take pride in these numbers.
If you want to contribute to Kudimba's work, please don't hesitate to get in touch, with our construction work in full swing, Kudimba can use every kwacha, every pound, every dollar and every euro. 
Funds are also needed for Kudimba's day-to-day operations. A monthly donation helps defray costs for food, medicine, repairs and maintenance and allowances for staff. 
Food is an essential part of Kudimba's services and food prices have risen and are bound to rise much more in the coming months due to these climatic disasters.
Every contribution is welcome and makes a difference, no matter how big or small. 
Kudimba greetings from the team